Tag: nathan drake
by The Glue on Nov.23, 2011, under Games
11-1-11 saw the commercial release of Naughty Dog's latest globe trotting adventure, Uncharted 3: Drake's Deception.  Sequel to the game that dominated the Game Of The Year sweepstakes in 2009, Drake's Deception looks to deliver even more shock and awe than Among Theives did.
For those who don't know already, Uncharted:  Drake's Fortune was a sleeper hit for PS3 in 2007 that mixed incredible graphics, intelligent platforming and good shooting with top notch writers and actors to create probably the most accessible "adventure" franchise to date.
Uncharted 2:  Among Thieves was everything that Naughty Dog did well in Drake's Fortune, only with bigger spectacle, better acting and Summer Blockbuster action sequences…all while improving on the shooting and creating new platforming experiences.  Uncharted 2′s online component mixed competitive and co op games quite well and made for probably the most underrated online shooter since Metal Gear Online.
Uncharted 3:  Drake's Deception looks to continue the franchise's tradition of excellence.
SINGLE PLAYER
Skipping the foreplay and getting right into it, Uncharted 3 continues to blur the line between the quality of film and video games.  Naughty Dog's chippy dialogue is just as good as ever, and the interactions between characters are all expertly done.
At this point, Naughty Dog has refined most of the elements of Uncharted's gameplay, but really it's the human element that truly defines this game.  Sure, Drake is on the hot on the trail of fortune and glory, but what's truly at center stage are Drake's relationships with his friends…particularly the years' long bromance between Drake and his hetero life partner, Victor Sullivan.
An early flashback to Nate's adolesence not only sets the stage for the game itself but also explores the first meeting between the two rogues.  In so doing, Uncharted 3 shows its chops as a storytelling vehicle and (God help me) an art form.
There's relatively little action to be had in the first half hour of play…there are few if any weapons to be used and any conflicts you get into require you to rely on your either fists or on Drake's legendary run and climb style of platforming.  Despite this decided lack of "action" in the game's open, the story and nature of what you're doing create a fantastic expository experience that easily accomplishes what Guerrilla Games was so honorably going for in the beginning of Killzone 3…great gaming through substance.
Drake goes through several different and wholly remarkable environments in the game, with new enemies and new allies in different sections of the game.  The scale of these setpieces has been ramped up…as has the wow factor that we've come to expect from the best games of this generation.  Uncharted 2 had upped the ante with it's huge and elaborate setpieces, but with Uncharted 3, Naughty Dog has found a sweet spot with a mix of action and scale that is up there with God Of War III.
To say more could potentially ruin some truly incredible gaming…so I'll just stick with "it's really fun, it's really big, and it's really, really fucking impressive."
Drake has more friends to help him out with this adventure than previous ones, and while newer characters in small roles might get lost in other games, they flourish in their time on screen.  Old flames Elena and Chloe make their appearances, and they make them count.  Again, the dialogue is not only better acted than other games, it's wittier and more well written than other games.  Chloe in particular gets points for being the first character that I've observed in a video game to use the phrase "tripping balls."
The game's primary villain, Katherine Marlowe, stands out as the best of the series, brutal as Uncharted 2′s Zoran Lazarevic, she's also sublte and cunning in an almost scary way.  Don't let the Martha Stewart looks fool you…this broad is a Grade-A bitch.  Drake's life, his relationships with those close to him and of course the sanctity of those things all into question at the hands of Marlowe and her pseudo Illuminati army.
Naughty Dog also continues to innovate the concept of platforming itself, with several stages offering drastic and dynamic environment changes as you play through.  Not only do you combat multiple enemies at the same time, you also combat the surroundings…including the elements of fire, water, earth, air, gravity and…luggage.  Big…heavy luggage.
Without spoiling exact uses of these effects, I'll just say that Uncharted 3 offers the most diverse, dynamic and entertaining platforming that I've encountered in a game.  Your jaw will drop…you may even gasp audibly at points.  Yes, it's that different…and yes it's that good.
Not being a game that ignores its roots, Uncharted 3 has several very specific, very awesome instances of homage.  Elements of Raiders of the Lost Ark, Temple of Doom and The Last Crusade show through in several instances at different times of the game, and if you're a fan of Dr. Jones, you'll enjoy them thoroughly.  There's also a running reference to the James Bond series' hulking recurring antagonist, JAWS.  Those of you who remember the 70s and 80s may remember JAWS from the 007 films as the huge bad guy with big metal teeth that kept coming back, no matter how hard he "died" in the last film.  He gets his love, too.
There are issues and annoyances, to be sure…during chase sequences, it's not always clear which way is the best way to proceed (which causes problems with the fast pace that a chase sequence requires), and there's several areas where Drake is pinned down by a seemingly insurmountable enemy force that comes in more waves than it should.
And even though by now we're used to Drake shooting his way through wave upon wave of situation generic bad guys, there are certain areas where the amount of people you need to overcome goes above and beyond the call of most adventure/shooters.
None of these are in any way, shape or form dealbreakers…and while they may bring a minute or two of annoyance to your game experience, they are easily forgotten overall amongst the stellar gameplay and superlative cinematic presentation.
Overall, Uncharted 3 is almost peerless.  There's great action, great storytelling, great gaming moments…and all on a scale that seems bigger, and more diverse than Uncharted 2, yet never seems like it's too much.  Transitions are smooth and despite all the insane things that happen in the game, you feel like it's all a natural and organic progression of the story.
…and it's fucking awesome.
MULTIPLAYER
Drake's Deception sees the return of Uncharted's woefully underrated online multiplayer.
With the absolute tragedy that was SOCOM 4, we came to realize that a good Third Person Shooter with online multiplayer can be hard to find.  Unlike Zipper Interactive, Naughty Dog decided to remain fairly faithful to the multiplayer experience they'd built in their previous game.
In addition to being able to play as various characters in the game, you can also purchase "classic" skins like Winter Drake and Donut Lazarevic from Uncharted 2, as well as a few other nice bonuses.  The kicker tho is the customizable playable character.
The game allows you to purchase from a variety of clothes and accessories to make your character look either suave and debonaire…or like some brokeass Somali pirate complete with bobo sandals.  At the end of the day, it's not a big deal or talking point, but being able to customize your online avatar in the shooter world is a fairly cool option.
Anyone whose played Uncharted 2 should know how Uncharted 3′s multiplayer shakes out.  There's a fair amount of bullet spray…intentional as you're not playing as a finely tuned Delta Commando or anything.
It still takes several well placed shots to drop someone, and as you level up there are boosters and/or weapon boosters that you can apply to make the process of shooting where you're aiming MUCH easier.
The modes available are just as robust as Uncharted 2′s experience was.  There's Team Deathmatch, Team Objective and the mode that everyone screams into their mics during the voting phase:  "Plunder!  Plunder!  Plunder!"
Naughty Dog also added Free For All and Three Team Deathmatch modes this time around…and they work very well.  Three Team Deathmatch is a bit confusing, but after a while, you get the hang of it.
There's several co op modes and the ability to play split screen off and online.  The co op games have objectives from both Uncharted 3 and Uncharted 2, and they're very well done and very fun.
Mind you, this game as a whole is not without fault.  Some of the chase sequences can become confusing, especially since drawing and using a weapon isn't an option in most of the early ones.  Again, these are not dealbreakers by any stretch, but there were a couple of sections where I was caught and/or died repeatedly.  At one point it was like a comedy of errors that had me wondering if the game was actually programmed to NOT let you past a certain point.
At the same time, some of the action sequences may seem like they're a revisitation from previous games, no matter how awesome they may be.  Really only one sequence has the actual "been here, done this" feel to it, but vehicle chases are among the most time tested and successful action implements in action/adventure movies or games…and in my opinion, you can't really have an adventure movie or game set after 1910 without one or two.
While the focus on characters and their relationships was a welcome improvement in Uncharted's already industry leading dramatic presentation, I felt the story didn't flesh itself out fully enough.  Sure, it was compelling and fun, but if I recall correctly, there isn't any kind of extensive reference to the archaeological objective (The Lost City of Ubar/Iram of the Pillars) until the game's damn near over.  Also, in the months leading up to launch, some very interesting and detailed things were said about Marlowe and her past that weren't given as in depth a presentation as I'd have liked.
And with online…I already mentioned the bullet spray issue…which you have to level up considerably to be able to counter.  It's a bit of an annoyance, but after playing Uncharted 2 online, I knew to expect this.
The verticality of U2′s MP has returned in full glory, and it allows for smart shooting, as opposed to…well…EVERY other online shooter out there.  You can hang off ledges and yank people off, you can shoot handguns from a ledge if you want.  The environments are diverse enough where you can climb up ledges to get to high ground, you can jump off in a pinch if you need to…it's all so well done that mixed with the simple cover mechanic, it makes for a great experience.
I also want to take a minute to praise the maps and level design.  No place is inaccessible, and campers don't stay in one place for too long if they want to survive.  At the same time, there's so many different levels and areas in these maps that each map is broken into several smaller parts making up the whole.
This makes chases much more interesting than in…say…CoD, where it's almost impossible to elude someone once they have a bead on you.  It also eliminates stupid spawn campers.  I'm not talking about the enemies that camp outside your spawn base; I'm talking about the idiots who find high ground in their own spawn base and sit there the whole round, trying to snipe people on the other side of the map.
NEVER will you get sniped from across the map in U3, and you have Naughty Dog's brilliant level designers to thank for it.  Mind you, sniping isn't useless or obsolete in U3, but you have to be quick and you have to stay on the move.  O and give it 25 cool points for NO QUICKSCOPING!!
Yes, if you want to be good at Uncharted 3…you have to aim.  If you're too much of a pussy bitch panty waist punkass to do that…then go fuck yourself and hit up Modern Warfare 2.
Online DOES have a problem, and it's the lag.  It's rare that lag is noticeable like Jumpers or anything, but I've run into rooms, shot someone up only to have them melee me to death…and then fall dead from the gunshot wounds I dealt them a second and a half after my demise.
Then there's the guys I shoot five or six times in what appears to be their upper torsos/heads, only for them to drop me with three shots to the leg.  I attribute that however to advanced weapons, boosters and mods that the Early Play Subway bitches have access to that I don't.
In case you missed the very prevalent Subway/Uncharted commercials that were everywhere for the past few weeks, U3′s deal with Subway enabled A LOT of users to level up in a beta for a couple weeks before launch, and then roll that progress into the launch game.
Yeah, maybe I should've sucked it up and gotten more five dollar foot longs like everyone else, but I don't have infinite space on my HDD and I didn't want to use it up with a beta to a game that I'd already purchased.
There's also the fact that it's really just punk when you're starting out with the pitifully gimped weapons available to people on Level 1 and you have to deal with a team full of Level 40s who have boosters and weapon mods that allow them to fire in clean, straight lines with more powerful weaponry.
That aside, this game is damn near perfect.  You'll be hard pressed to find a better, more entertaining, more engaging single player experience, and the multiplayer is at least honest…which you can't really say for other online multiplayer functions out there.  Plus, when you're on a 4 or 5 kill streak, you feel like a total badass.
Overall, this is a great game that needs to be in every self respecting PS3 owners' library.  The single player is just as genre defining as ever, bigger than before and there is not a dull moment.  The multiplayer is more engaging than it ever was, and with new co op modes to go along with the fine tuned competitive and co op arena options, it adds a high level of replay value.  It's like Naughty Dog took Uncharted 2 and revved it up to the red line to see what they could do for Uncharted 3.
While the game isn't perfect, there hasn't actually been a perfect since SSX3 came out damn 8 years ago.  Sure, MGS4 was close, but too many haters whined about the long cutscenes that are still better than any action movie they've seen since Kill Bill…but whatevs, right?
Uncharted 3: Drake's Deception gets a 10/10.  Despite not being "perfect," this game delivers in every way imaginable.  The single player campaign will reaffirm your faith in the direction the gaming industry has taken, and the multiplayer is a very robust, fun and smart alternative to the typical FPS shooters that dominate today's market.
This game is a masterstroke, not just for Naughty Dog or Sony, but for gaming as a whole.  This game stands with not only the best games of the year, but also one of the great entertainment vehicles of 2011.  If you own a PS3, you owe it to yourself to own this game.  Years from now, if games are ever as important to American culture as television and movies are, the Uncharted series will be one of the franchises they talk about as helping bring about that change.
Leave a Comment
:drake's deception, game of the year, nathan drake, naughty dog, uncharted, victor sullivan
more...
by The Glue on Apr.11, 2011, under Games
Okay yeah…I take a long time to get these things up.  My bad, sorry.  Anywho…we're continuing with my Top 10 Games, this being numbers 5 through 1.  Again, just a reminder:  this is MY all time Top 10.  Please feel free to have your own, but understand that I'm not speaking for you, nor am I trying to.  Neither Halo nor Resistance made my top 10…try not to freak out about it. 
5)  Uncharted 2: Among Theives
I had two problems with Uncharted: Drake's Fortune…the botched jetski river sequence and the fact that the ending didn't really seem fitting for so graniose an adventure.  Everything else was on point.  The voice acting was at the time probably the best gaming had to offer.  The action was good fun and well paced throughout, with the notable exception being the aforementioned jetski sequence.  The production value of the game was absolutely through the roof and came of seamlessly.
Of course the reason the game was so successful above all that was the fact that the characters were charismatic and allowed to shine.  Drake, Sully, Elena and especially (even though it's pretty much a cameo) Eddie Raja are all especially memorable characters, and their interaction in game is superb.
Uncharted 2 trumps all of that.  Every playable sequence is not only fun, but many will have you grasping the controller with white knuckles and sighing in excited relief when you've successfully completed the mission.  Uncharted 2 is just big Hollywood action from the first moments to the last.  The setpieces are huge, the graphics are at points damn near photorealistic, the voice acting and pacing continues to be perfect and this time around the story is more involved and in several different locations.
On top of all the improvements to the game (which BTW led G4′s Adam Sessler to not only personally review the game but to also pronounce that it was the best single player experience he'd ever played), developer Naughty Dog also included a deep and robust multiplayer option, signalling that Uncharted had accepted its place as a shooter first and platformer second.
Multiplayer came off very well for a first time effort and gained the franchise long term relevance in an industry that tends to forget great games that lack lasting replay value rather quickly.  All around, Uncharted 2 is practically the definition of what a great game should be.  The gameplay is excellent, there's several big money "Holy Shit" sequences, the cutscenes are just the right length and acted perfectly and then there's that whole "damn near best graphics available on a console" thing.  Good enough to rank # 5 on my list.
4)  Metal Gear Solid 4: Guns Of The Patriots
Holeeeeeeeeee shit.  This game is insane.  At the outset, I'll have to concede that it's not for everyone.  Hideo Kojima is a strange fellow, and there's more than enough strangeness in this game to go around, as well as overly long cutscenes that for some reason gamers raged against, despite the fact that they're totally skippable.
Going forward, this is one of the greatest games ever made.  The alleged finale of Solid Snake, Metal Gear Solid 4 looks to tie up loose ends from the 5 games that came prior to it.  The Boss, Big Boss, Ocelot, Liquid, Zero, Campbell, Meryl, Johnny, Otacon, Vamp, Naomi…even Psycho Mantis and Sniper Wolf ALL get closure in this game, which can only be described as WALL TO WALL BADASS.
REX vs. RAY alone would be enough for the price of admission, but you have a wealth of stealth gameplay, any number of different ways to approach each game scenarios, funny, well done and satisfying dialogue between characters, really big "Holy Shit" moments…MGS4 has it all.
At the time it was released, it had the best graphics that had been seen to date on a console.  Despite the fact that games like Uncharted 2 and Killzone 2 have since eclipsed MGS4′s graphical prowess, the game still looks better than just about everything else out there.
Metal Gear Online, MGS4′s online multiplayer, was vastly different than many shooters, mainly because of the Kojima weirdness.  Unfortunately, it has a learning curve that really isn't a curve at all.  You can level up to Level 5 in the beginner rooms then you move on to the regular rooms, where you proceed to get completely and utterly OWNED.
I remember one time I killed a guy who was Level 13 and I was so happy that I literally took pictures of it and made it a wallpaper/web banner.  Despite that, online was generally fun and a nice compliment to one of the greatest and most cinematic games ever made.  Roll a doobie and play this one…it's like a game and a movie combined in a vat of awesome…you can't lose.
3)  God Of War III
Since the release of God Of War in 2005, Kratos has become a de facto mascot for the Playstation brand, and not without good reason…he kicks fucking ass.  The whole God Of War series is simply a litany of superlatives.
Two of the best playing and best looking games on the PS2.  Two of the best playing and best looking games on the PSP.  One of the best playing and best looking games for cell phones.  One of the best playing and best looking games on the PS3…God Of War has become synonymous with awesome.
Kratos' journey started out as a quest for redemption, and the first game ended famously with Kratos realizing that because of the horrendous nature of his crimes, he was beyond redemption.  This of course fuelled his subsequent rage until finally, in God Of War III, it's all stripped bare.
There's no hope for redemption.  There's no saving the world.  There's no reuniting with his long dead wife, child or his brother, Deimos.  There is only Kratos, and his unsatiable hatred for the gods of Olympus, especially his father, Zeus.  Kratos' only goal is to kill Zeus…and everything that is stupid enough to get in his way.
Despite the fact that the series has never been heavy on rainbows, moonbeams and harmony, God Of War III is especially darker than its predecessors…and it's told in as violent a way as possible.  The deaths of Poseidon, Hercules and Zeus are so brutally graphic that they border on disturbing.
Kratos' anger consumes him…in prior iterations of the game, his anger was a drawing force, something I as well as other gamers savored.  We all of course, have frustrations and issues in everyday life that the code of society forces us to swallow…and that's a big attraction for the God Of War franchise.
Instead of swallowing or "dealing with" his seemingly endless rage, Kratos tears his enemies limb from limb.  He rips their arms off and bludgeons them to death with them.  He rips off their horn and stabs them in the eye with it.  He smashes two naked broads repeatedly until he's ready to dismember more hapless victims.
It doesn't matter if you're Zeus, Hercules or just an innocent Athenian trying to run from the chaos…if you're on the TV screen, Kratos will probably tear you in half.
God Of War III intensifies all of that, and rightfully so it did not necessarily have the mass appeal that God Of War and God Of War II had.  There is no victor, here.  There is no happy ending.  There is no hope for redemption.  There is only Kratos and his rage…and the hope that when it's all over you will not fall victim to it.
…and it's AWESOME.
2)  Grand Theft Auto: San Andreas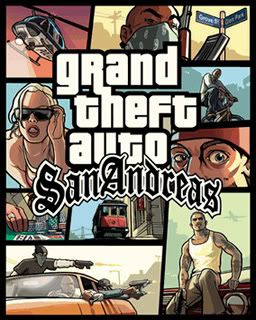 Grand Theft Auto has long been a groundbreaking franchise.  Really the first console game to combine a driving game and a shooter with 3D quality environments, as well as to use an open world "sandbox" for the setting, GTAIII was literally a revolution in gaming that set the gaming world on fire.
With each new iteration, developer Rockstar Games upped the ante.  Adding side quests, mini games, the ability to to buy property and businesses, boats, motorcycles, helicopters, airplanes and even a jet pack…every successive game GTA put out for the 6th generation of consoles was a marked improvement on its already awesome predecessor.
GTA also doubles not so much as social commentary, but as a monument to pop culture in America.  GTAIII drew heavily on the mafia shows and movies of the day, using several actors from The Sopranos (Joey Pantoliano, Vincent Pastore) and other mob/crime movies (Michael Madsen, Michael Rappaport, Robert Loggia).
Vice City was a sprawling and fantastic tribute to the 80s and Southern Florida, with upper tier cops made in the image of Sonny and Tubbs from Miami Vice, continuous and gratuitous references and scenarios to/from Scarface, guest appearances by old school icons Lee Marvin, Lawrence Taylor and Dennis Fucking Hopper.
San Andreas, however was head and shoulders the best of the lot…and I mean ALL GTA games, including IV.  I remember G4′s review of SA, specifically for the part at the end where they said in their X Play telecast, "GTA SA is so big that after 10 hours of gameplay, we haven't even unlocked the second area (San Fierro).
Set in "Los Santos"/Los Angeles during the early/mid 90s…which is pretty much the time and place that a game like GTA was made for.  Ice Cube, Tupac and NWA on the radio, gang wars, multiple forms of gambling, ridiculously deep customization of your character and your car(s), girlfriends, airplanes, jetpacks and the absolutely huge open worlds of Los Santos, San Fierro and Las Venturas in which you can make mayhem help make this the undisputed greatest chapter in the Grand Theft Auto legacy.
Don't get me wrong…GTAIV was a great game.  Great game.  But it seriously does not hold a candle to San Andreas.  San Andreas is bigger, has more vehicles, has more missions, has more side quests, has more mini games, has more customization, has more quality and has more fun than GTAIV does.  It also helps that the main characters of San Andreas are infinitely more likeable than Niko Bellic, who (while not a dealbreaker or anything) I wanted to shoot by the end of my first playthrough of IV.
And that's not a statement about GTAIV.  That's a statement about San Andreas.  Oh well.  Orson Welles had to live with the fact that his second movie, Citizen Kane, was one of the all time greatest films ever made…thereby not reflecting the most flattering light on his voluminous work after its release.
Regardless of which AAA game represents the franchise, GTA is a franchise for the ages.  Certainly unless you're a Mormon or Puritain or some shit like that, GTA deserves a spot on your "All Time Favorite Games" list, and GTA is so good that it is only eclipsed by my favorite game of all time.
1)  SSX 3
One day back in 2001, I went out to Blockbuster to rent GTAIII.  The game was incredible, a revolution, and I'd just come back from a friends' house where myself and two of his friends had taken turns seeing who could create the biggest and most insane cop chase and subsequent crash.  While I was at Blockbuster, I also rented a game that I'd seen a lot of really cool commercials for, SSX Tricky.  Back then it was the 10 day rental, I think.
The first night I played GTAIII and it was awesome…any of you who played GTAIII when it came out probably still remember the feeling of when it really hit you…just how awesome GTAIII was.  I remember it…it was a pretty cool realization to come to.
The second night I put in SSX Tricky and totally forgot that I'd also rented GTA for 9 nights.  For the next week and a half I was riding high on Elysium Alps or Garibaldi, pulling off SICK Uber Tricks, and I couldn't have given a fuck that GTAIII was sitting in its box, collecting dust.
SSX Tricky was almost perfect as a game.  The characters, the ridiculous and brilliantly designed slopes, the off the charts Epic Quotient of the specialty runs like Tokyo Megaplex, Pipedream and Alaska, the unlockable snowboards, the unlockable outfits, the unreachable heights to which you could jump and then pull off a backspin…the game was fucking unreal.
SSX3 worried me, because I wasn't sure you could really improve on Tricky.  I was worried for absolutely no good reason.  SSX3 is my favorite game of all time.  Instead of menus or any of that shit, the game deposited you right on the mountain and had you fucking board your way to your activity.  There were three peaks and one mountain, and by the end of the game you could start at the very peak of the mountain and snowboard yourself through every staging area to the very bottom.
The obstacles, heights, jumps and extreme speeds all add up to Insane and customizable Uber Tricks, and they're represented well with excellent effects that deliver an immersion I've not encountered in a game since.  The soundtrack is probably one of the best ever compiled for a game and the music actually adjusts crescendos for big moments on the course, which is really a remarkable feat.
SSX3 was followed by SSX On Tour, which was a very valiant effort.  The courses were even larger than SSX3 and you get some really super duper air and tricks out of them.  The soundtrack is just as good as SSX3 and actually has MORE music available on it than 3 did…in addition to being able to customize your own rider as opposed to always using a computer created character.
…Mac Fraser was the best, by the way.
Unfortunately for On Tour, it just wasn't as slick as SSX3 was.  It was however considerably bigger and more extreme, adding Monster Tricks to the already incredible Uber Tricks that started in Tricky.  Developed by EA Sports BIG, SSX is a part of a number of truly excellent franchises for which they released outstanding games.  Sled Storm's PS2 reboot, Freekstyle, Shox, Def Jam Vendetta, NBA Street…EA Sports BIG was probably the best overall development house for the previous console generation.  I miss them.
The SSX series is the best action sports series out there.  It totally shits on the entire Tony Hawk Franchise, even back to Pro Skater 3 and THUG…you know…when Tony Hawk games were good.  The ability to throw Uber Tricks and Monster Tricks while flipping hundreds of feet in the air is just amazing.  With the effects and the soundtracks available, these games were games that you had to pry yourself off of.
Of course, with SSX Deadly Descents on the horizon (EA says there's about 15 months of work remaining), people like me are watching with a careful eye to make sure the tradition of awesomeness continues.  If it doesn't, that's okay tho.  I've got my PS2 and if I need to I can always go back to the game that's (for me anyways) the best.
Thanks.
Leave a Comment
:carl johnson, fuck your couch, mac fraser, nathan drake, solid snake, Top 5 Games Ever
more...