Tag: dlc
by The Glue on Jan.11, 2012, under Games
Okay this is going to be just a little quick hit.  Of course with the release of MW3 came the release of Call Of Duty Elite, which is CoD's little social networking/stat tracking/clan building website.  Kind of like Killzone.com or Halo Waypoint…except for the fact that Activision wanted Elite to be a springboard for charging the CoD userbase a subscription fee on top of the $60 that we already paid for the game itself.
Faced with the fact that social networking alone was NOT going to get them the $50 extra per player that they want, Activision went ahead and offered all the upcoming DLC for MW3 as part of the Elite package, which as I understand it does offer legit savings.
Here's my problem.  Elite costs as much for PS3 users as it does for 360 users, but PS3 users will STILL have to wait out the month of timed exclusivity that 360 users get before they can have access to the DLC.  What's more is if you PAY for Elite, you can only use the DLC voucher for ONE system…regardless if you've got active PSN AND XBL accounts.
Now…I have a 360…and at last check I had CoD2, MW, MW2, BO and MW3 for the 360.  The thing is that I'm primarily a PS3 gamer.  There are legit reasons for that above and beyond "ZOMG, Sony >>> M$ FTW" that I won't go into here, but the fact is that I'm a PS guy first…it is what it is.  Typically I buy all the DLC for both systems, but I'm not buying any this time around.
I wanted to get Elite…but why am I going to pay the same money that 360 guy is paying to STILL get my shit a month late?
Now I'm not one of those people who is completely ignorant in the ways of business; I understand that Activision and Microsoft have a contract regarding timed exclusivity and I'm sure there would be significant financial ramifications for Activision to offer DLC to PSN users during the period of negotiated timed exclusivity to XBL users…
…but that isn't good enough for me as a consumer.
I'm not buying Elite and I'm not buying any MW3 DLC.  If Activision is ever able to modify their DLC agreement with M$ so that PSN users who subscribe to Elite can get access to DLC from the first moment it becomes available to XBL users, then I might change my mind.
But this is bullshit.  Sure…I'll miss out this time around, but to be honest…MW3 isn't that difficult.  I finish most games in the top 3 overall scoring, I almost always go positive, and I may not have a 2.0 KDR, but I also don't camp on objective games trying to pad my stats when I should be trying to help my team win.
Fact is, I'm a very good CoD player, at least in the games I play in, (as I said) I'm usually top three.  It's been that way since about a month into MW2, and it hasn't really gotten any more challenging since then.
As such, I'm not even sure if I'm going to be motivated to boot up a CoD game again once SSX drops…
I mean, being good at something…or being better than most at something is pretty cool, but I've been doing this CoD thing for three or four years now.  It's kinda like winning the Special Olympics.  Yeah, I won…but I'm still a retard.  XD
Just kidding…only douchebags look down on CoD vets just because they're not playing Battlefield or Skyrim or whatever other gayass game that somehow makes those who play it better than those who play CoD…#getthefuckoveryourself
But yeah.  Fuck Elite.  If I can get the maps on PSN from the moment they're available, then maybe I'll think about picking it up.  But as long as timed exclusivity reigns over the DLC's availability to PSN Elite subscribers, then buying Elite for either system will always be out of the question.
And to reflect somewhat in the words of Bobby Kotick, "…if they don't do something about (this) soon, (I'll) have to seriously evaluate weather or not I will continue to support (the CoD franchise) going forward."
That's right…fuck you Kotick, you horse fucking cock goblin.
2 Comments
:activision, bobby kotick is the fucking devil, Call Of Duty, Call of Duty Elite, CoD, dlc, Elite, timed exclusivity
more...
by The Glue on Apr.05, 2010, under Games
Seriously now, I'm going to have a Gamer's Tea Party.  Fuck Bobby Kotick, Fuck Infinity Ward, Fuck MW2′s Stimulus Package.  Seriously…not because Bobby Kotick is the fucking devil and MW2 is the new crack.  That's right…I said it…MW2 is the new crack.
Seriously, it is…it's only a matter of time before motherfuckers are sucking dick to pay for their internet connections…but that's a whole other wave on a whole other ocean.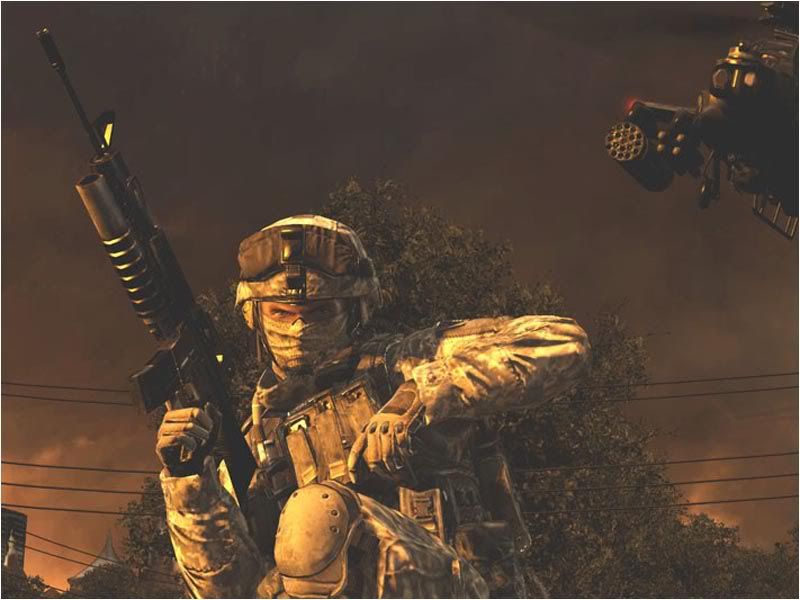 Seriously tho, fuck this shit.  If you've read this far and are still wondering what the fuck I'm talking about, then you have a lot in common with my wife.  But just to shed some light, Infinity Ward is going to release what they're calling the "Stimulus Package," which is a set of maps for Modern Warfare 2 online, that will be available for a purchasable download.
The thing is, usually a DLC map pack will contain between three and five new maps, sometimes new skins and/or weapons, and typically be priced around $10 to $12.  American.  Not sure what the exchange rate is in Pennsylvania for that, but whatever.
IW's "Stimulus Package" has five maps.  Three maps that are supposedly "new," and two maps that are ports from Modern Warfare.  Which is currently being played on XBL and PSN and the PC with better server architecture than MW2 is.
But that's just my pet peeve, what's really the problem here is that IW is charging $15.00 for this recycled bullshit.  AND MOTHERFUCKERS ARE GOING TO BUY IT!!
Seriously…fuck Activision, IW and Bobby Kotick…but this goes really too far.  Bobby Kotick once spoke of his grand vision that all games would carry a $500 price tag and be recycled and released again as sequels the following year for another inflation adjusted $500.  This is clearly a major step in this scheme and while most of the gaming community views Bobby Kotick as the Devil Himself which he is, there are still about five or six million worthless, dickless, jobless MW Fanboys who are going to shell out their stepmother's money for this shit.
$15??  For three new maps??  And two maps that I can play RIGHT NOW…FOR FREE…ON THAT MW GAME THAT CAME OUT TWO YEARS AGO??!
This is why I hate Bobby Kotick.  He feels entitled to yours and my money.  Throw together three generic maps based in the game that were most likely designed with ALL THE OTHER MAPS in the game and port two maps from THE OTHER, TWO YEAR OLD GAME, and call that DLC.
Okay, I can get with that, but asking the consumer to pay what amounts to a premium price for it is ridiculous.  Seriously…if you're going to charge someone Cadillac money, you'd better not be delivering a Kia Spectra.  But that's what Bobby Kotick is having IW do, and he's staring us (the gamers who bought a billion dollars worth of MW2 so we could play it on nickel and dime Peer 2 Peer servers) dead in the face to see if we blink.
And Modern Warfare Fanboy isn't only going to blink…that bitchass is going to lay down and go to sleep.
THIS is why I resisted the pre launch hype of MW2.  THIS is why Fanboys are going to be the end of gaming.  These little fucking premature ejaculations gone wrong will blindly defend their favorite game or console, and then when the manufacturers of said game or console grease their dicks up…these fucking hos are the first and most fervent of us to bend over and start thinking of purses.
I'm not buying it.  In fact, I've stopped playing MW2 all together.  It's been 32 hours clean for me now.  I'm not some mindless sheep.  I buy games because I like them, and if I purchase expansions or DLC, it's because they have a value to me that either is matched by or exceeds the price tag that is put on it.
I will not be a part of the Fanboy machine.  It only empowers hardware designers and software manufacturers to release products with lower quality for more money.
Like the PS2 fanboys who bought the original Killzone because they thought it would be the Halo Killer that the press made it out to be…and then professed their love for the game despite it being a bug and glitch filled disaster.
Like the 360 fanboys who bought three or four new 360s when M$ stopped offering to fix their last one for free because they were "too cool" to game on a PS3 that is ten times less likely to die after the expiration of the Manufacturer's Warranty.
Like the PC Gamer Fanboys who think that you can individually program 256 macros on your keyboard for Counter Strike and still know the touch of a woman.
Okay, those are all exaggerations, but it's that type of person…blindly devoted, willing to pay premium dollars for a sub standard product and smile while doing it…that are going to be the end of gaming.  Because as long as there are losers like that on Earth, there will be walking piles of shit like Bobby Kotick who will find a way to exploit their ignorance and stupidity, make them fans of their substandard product, charge them an arm and a leg for it, and expect the rest of us non-Neanderthals to ante up right alongside them.
Fuck that, son.  If you've got dignity, self respect, pride or if you just plain have a fucking cock, then you'll stand up with me and refuse to buy IW's Stimulus Package of recycled bullshit.  It's time for gamers to demand more for our money.
Fuck.  That.  Shit.
1 Comment
:bobby kotick is the fucking devil, dlc, iw, mw2, shit on a shingle, stimulus package
more...