Tag: bullshit
by The Glue on Apr.26, 2011, under Games
Okay.  I'm gonna make this short and bitter.  Sony can lick my fucking balls.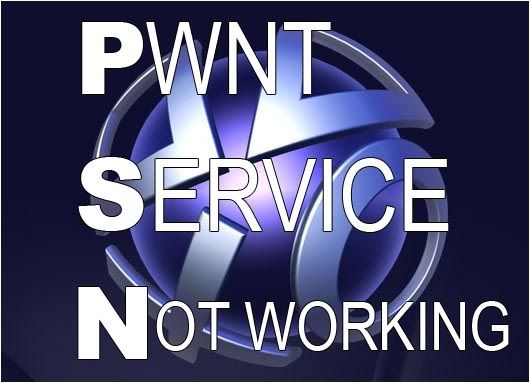 You may or may not be aware that Sony's been dealing with several assorted hacker problems over the course of the last month and last week they announced that PSN would be down "a day or two" for maintenance…presumably to improve their system's security.
The outage lasted throughout the week and over the weekend and now, with rumors swirling about some hackers getting free games off PSN and others having possibly been able to recover credit card information from PSN purchases, Sony announced that it's suspending PSN indefinitely until it can fix all of the problems it had.
Personally, I'm fucking sick of it.  It's been a fucking week and SOCOM 4 is collecting dust on my shelf because I don't want to jam through the way too short single player campaign overly quickly now that EVERY OTHER FEATURE ON THE GAME IS MOTHERFUCKING USELESS.
Are you fucking kidding me, Sony??  Are you seriously fucking kidding me??  A year or so ago, when I was wondering why Sony never banned people from PSN the way M$ bans people from XBL…and I'd have never figured it was because the people who planned and designed all of Sony's online services WERE FUCKING INCOMPETENT IDIOTS WHO DIDN'T KNOW WHAT THE FUCK THEY'RE DOING.
It's like those motherfuckers had never heard of software piracy before and they're all caught off guard.
PSN needs to be fixed, and it needs to be secure for the people (like myself) who make purchases with credit cards on it…yes.
But I also need to be able to play my fucking games online.  Now…I have a 360 and I have an XBL account.  Two of them, actually.  But that's just me…I've been fortunate.
To this point, I've been a primarily Playstation gamer.  If a game is multiplat, I have it for PS3.  I may also have a copy for my 360, but if I do, it's so my sons can play it on the 360 in the living room while I play it on my PS3 in the Man Cave.
Going forward, I dunno.  Over the past couple of years a lot of my friends bought PS3s and play games online quite a bit, considering that they're all casuals.  Yes, that's "casuals" as in "casual gamers" as in the Be All, End All Demographic in the gaming industry.
Not for nothing, but myself and several of my friends are a bit twitchy right now, because we can't sign in to PSN and get our merc on.  Sure…Sony's ironing out issues that need smoothing…I get that…
…but fucking A, I need to be able to play games online, I need to be able to use Netflix on my PS3, I need to be able to have my trophies sync with Facebook and NONE OF THAT WORKS with all of PSN down.  So Sony, I'm here to tell you this…and I know I'm not the only one…get PSN up.  Yesterday.
I don't give a fuck about your excuses.  Just get PSN up and do it now.  I'll be playing Black Ops on Xbox LIVE in the interim, and every second, minute, hour and day that you continue on with PSN down, more and more people get closer and closer to selling their Black Boxes on Craigslist so they can buy a 360.
Sure…they'd have to pay $60 just to be able to use the online features…but XBL is up right now and 360 gamers are playing online, while PSN is down and noone's even got an ETA as to when it'll be up.  If you have to go to a console that charges to play online and even then can't run anything better than a DVD9 on it, then that's what you've got to do.
Since the launch of PS3, Sony Computer Entertainment has withstood a lot of internal and external criticisms and issues…holding firm to their vision, knowing it would pay off in the long run.  Just a couple of weeks ago they announced that PS3′s global sales had eclipsed those of the 360.  Now, this stupid bullshit is a legit threat to bring all the PS3′s remarkable growth over the last three years to a grinding halt…and as usual, Sony's only got itself to blame.
Leave a Comment
:bullshit, hackers, Netflix, PSN down, Sony, Trophies
more...
by The Glue on Mar.13, 2010, under Games
Really now?
I was going to say something long winded, witty, deep and meaningful…but seriously, this crap doesn't deserve any more attention than me saying:
"DON'T FEED THE FUCKING TROLLS!!~!"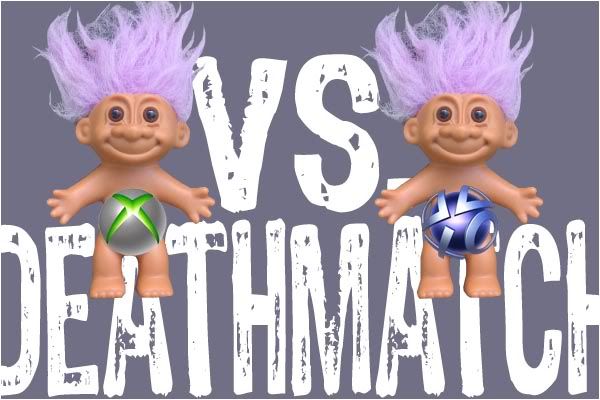 I know some of you think it's a lively debate.  Yeah, you're a fucking idiot.  It's a fucking train wreck, shut the fuck up and find a new purpose in life already.  Just like Flick should'a goddamn well had more respect for the elements and for the flagpole…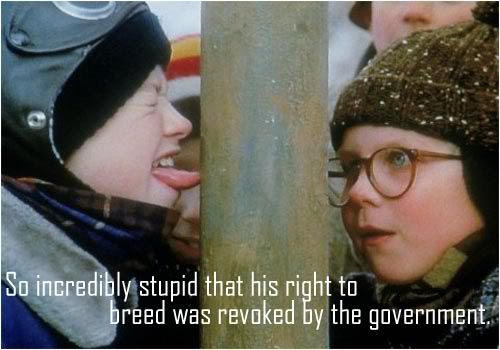 Smooth and sensible motherfuckers such as myself just go on as if nothing ever happened…and we're better for it.
You could be, too.  Don't do it.  Don't feed that troll.  You know he's there…sniffin' at your chair legs…waiting…don't give in.  Good night.
You can take your seat now, Ralphie.
Leave a Comment
:better fucking things to do with my time, bullshit, don't feed the troll, fanboy, get a goddamned life you festering cum stain of a person
more...